Shuaib Engineering Co. Sole Agent For Middle East & Africa



Wanchun Bamboo Flooring



Shuaib Eng Co. is the only company specialising in selling and installing Bamboo flooring in EGYPT. The quality of our Bamboo flooring is one of the best in the world because we are the sole agent for one of the leading manufacturers in the business. Since we work together with our manufacturer we are able to provide the best quality product, at a good price, and our installations are of top quality.

ABOUT BAMBOO:




Bamboo has been cultivated for more than 4,000 years in China. It has been used in everyday life in Asia for centuries. Bamboo is a food, a "paper like" medium for messaging, for art works, utensils, furniture, vessels, decoration and more recently as building materials including, flooring, veneer and paneling, decoration as in moldings and wall coverings and pallets and shipping crates.

According to David Farrelly in his book, "The Book of Bamboo":
A typical bamboo has a tensile strength of 28,000 per square inch compared to 23,000 for steel.

In late 19th Century Europe, bicycle frames typically were made of bamboo.

Bamboo survived the Hiroshima atomic blast closer to ground zero than any other life form.

In 1882, Thomas Edison used bamboo filaments in the world's first light bulb manufacturing.

The needle in Alexander Graham Bell's first phonograph was made of bamboo.
China has more than 1.6 million square miles of bamboo under cultivation and is considered a great natural resource. This grass grows to 40 feet and it is a major carbon dioxide converter with has no known enemies.
Bamboo Flooringis a premium, pre-finished, engineered hardwood flooring product. Our product is of the highest quality and the hardest available on the market. Bamboo flooring meets or exceeds the performance of traditional hardwood flooring, and can be specified as a direct replacement. Using sophisticated manufacturing equipment, bamboo strips are processed and bonded into multi-layered, tongue & groove floor planks. Varying by construction method, there are several types available including:




Technical Data
---
Technical Data Strand Woven Bamboo

Physical Properties Compared with wood, bamboo has many advantages: high strength, large tenacity, strong rigidity, tractability, and has better physical mechanical performance. Bamboo's static bending strength, rigidity, and strength of extension can be up to than twice that of wood. Folding strength and surface degree of bamboo flooring is greater than that of wood flooring. Surface Layer Length L, mm (Lave) : 0.04mm Surface Layer Width W, mm (Wave) : 0.14mm Thickness T, mm (Tave) : 0.5mm Linear Stability Qmax: < 0.2 Physical Tests Moisture Content: 8-10% Warp flush >=98mpa Hardness Mpa: 73.0Density 0.73g/cm3 Gluestick ductility >2.5mpa Formaldehyde< 0.00004 ppmImpact ductility :>155kg/m2 Abrasive resistance of surface <=0.05g/100r Elastic modulus> 11.5*103mpa Test Results FLAMMABILITY : when tested according to ASTM E648 Critical Radiant Panel Test. Passed with a CLASS I rating per NFPA: life safety code.(can be used in all classes of buildings.) SMOKE DENSITY : when tested according to ASTM E622 pass = 450 or less, passes with 269 flaming mode, 329 non-flaming mode. ABRASION RESISTANCE : when tested according to ASTM C501 (H-22 calibrated wheels loaded with 1000 gram weight at 70 RPM for 1000 cycles) weight loss =349 grams = .012ounces CHEMICAL AND STAIN RESISTANCE : when tested with the following chemical reagents finish was unaffected: Acetic Acid (5%) Acetone Ammonium Hydroxide (10%) Toluene Detergent solution Ethyl Alcohol (50%) Hydrochloric Acid (10%) Turpentine heavy duty (.025%) Hydrogen peroxide (3%) Soap Solution (1%) sodium Hydroxide (1%) INDENTATION RESISTANCE : when tested according to ASTM 1037 (Janka Ball Hardness) showed an average hardness of 2820. DIMENSIONAL STABILITY : when tested according to standard method for wood flooring showed a dimensional change coefficient of .00144. SLIP RESISTANCE : when tested according to ASTM D2047=results 0.71 coefficient of Friction. COMPRESSIVE STRENGTH : when tested according to ASTM D3501-86 A=results A) Parallel to Grain =7,549 PSI B) Perpendicular to Grain =2,566 PSI C) Flatwise =16,925 PSI at 50% strain. (Load to compress to 1/2 thickness) BENDING STRENGTH : when tested according to ASTM D3043-87 result =13,608 PSI BENDING ELASTICITY MODULUS : = 943,443 PSI SHEAR STRENGTH : when tested according to BRITISH STANDARD # 373 result =parallel to grain 2820 PSI TENSILE STRENGTH : when tested according to ASTM D3500-90 A result = parallel to grain 15, 290 PSI GLUE : non-toxic for formaldehyde release: formaldehyde emission well below E1 standard requirement. BAMBOO FLOORING


Installation Instructions
---
INSTALLATION GUIDE
READ COMPLETELY BEFORE STARTING INSTALLATION.
Congratulations on choosing wanchun bamboo flooring. Please take time to read the following procedures before you begin installation. With the correct installation of this flooring, following the precautions in this guide, this natural product will give you many years of satisfaction. Yanchi bamboo flooring is manufactured to standards that permit a variance in thickness, width, and length of no more than 0.25mm (that is less than 0.01 inch). While quality control procedures at the factory ensure that very few defective boards are delivered to the consumer, the owner/installer of this bamboo flooring is responsible for the final inspection. Claims cannot be made for defective boards after they have been installed.
Installing Bamboo Flooring on Top of a Wood Subfloor
Important Notices

- Read the Warranty carefully before installing the product.
- All installed strips will be considered accepted by the installer and/or homeowner.
- Before you order flooring, make sure you add at least 5% to the actual area size you are going to cover. The industry standard for allowable small defects, mismilling or misgrading is 5 %.
Installation requirements

- Gypsum joints must be completed and dried.
- Concrete work must have been completed at least 45 days prior to installation.
- The heating system must be functional and the building must be heated up to 21°C (70°F) for a minimum of 7 days immediately prior to installation.
- The relative humidity of the building must be between 40% and 45%.
- Plywood humidity (subfloor) must not exceed 12%.
- Subfloor thickness must be a minimum of ¾"
- Particle boards or chipboards must not be used as the subfloor.


Before installing
**
Do not install flooring that has not been properly acclimatized to humidity conditions. Recommended acclimatizing time is 7 days minimum in rooms where the flooring will be installed. Try to disperse flooring as much as possible. If this is not possible, make smaller stacks, break boxes, and open ends. Before starting installation, check moisture content on several randomly picked samples.
- Make sure the subfloor (plywood) is properly attached to the joists to avoid creaking.
- Correct slight irregularities on the subfloor with a sander.
- All the nails and screws of the subfloor must be driven in properly.
- Remove baseboards and doorsills.
- Cut 2cm (9/16") off the bottom of the doorframes to insert the strips underneath them.
- Vacuum the subfloor regularly during installation to make sure it is always clean and dust free.
- A vapor barrier or felt paper (#15) placed between the subfloor and the strips will help keep the humidity content of the flooring more stable.
- 1 ¼" minimum length, 15-gage nails, or staples are recommended to fasten the floor.
Tools and Accessories required

- Measuring tape
- Miter saw
- Square
- Sawhorse
- Chalk line
- Handsaw
- Hammer
- Vacuum cleaner
- Crowbar
- Drill and drill bits
- Safety goggles
- Nail punch
- Level
- Hardwood hammer (manual or pneumatic) and rubber hammer
- Other tools and accessories may be necessary depending on site configuration and type of installation.
Installation Guide

- Locate the longest wall of the room where the product will be installed. This wall must be perpendicular to the joists. The flooring strips must be installed perpendicularly to the joists.
- Allow for a 13mm to 19mm (1/2" to 3/4") expansion joint between the wall and the flooring strips. This joint will be hidden by a baseboard or quarter round.
- Draw a guide line with a chalk line. The guide line must be parallel to the wall. Calculate its distance from the wall as follows: expansion joint + strip flooring width + tongue width.
- Nail the first row by drilling holes on top of the strips first. The holes must be drilled 13mm (1/2") from the side of the strip and 25cm (10") from center to center. Also, drill holes on top of the tongue at a 45 degree angle. Using spiral roll shank nails, fix the first row of strips making sure you are aligned with the chalk line. Use a nail punch to hide the nails properly.
- For the second row, drill holes on top of the tongue at a 45 degree angle and nail it with spiral roll shank nails. Use a nail punch to hide the nails properly.
- To end a row, cut the strip at the correct length and use the remainder of the strip to start the next row. Do not forget to leave sufficient space for the expansion joint at the end of each row.
- Make sure you carefully choose the strips to avoid aligning the end joints with those of adjacent rows. A minimum of 15cm (6") must be allowed to avoid aligning the end joints.
- Install subsequent rows using the hardwood hammer while respecting the rules for alignment joints and expansion joints. Nail the strips every 6" to 8".
- When installing the last 4 or 5 rows, use of a hardwood hammer will not be possible because of the proximity of the adjacent wall. Proceed in the same way as you did for the second row at the beginning of installation.
- You may have to cut the last row lengthwise. Fix it in the same way you did for the first row, that is, from the top.
- Once installation of the strips is completed, use a touch-up pen to fill nail holes and correct other imperfections.
- Install baseboards and doorsills.
- Vacuum once again. Spray some flooring cleaner on a mop and clean your floor. Installation is now complete.
Practical tips

- Installation of a factory-finished, hardwood floor requires more care than a conventional floor to prevent damaging the floor's finish during installation. Frequent use of a vacuum cleaner during installation is highly recommended to eliminate sawdust and wood chips.
- Place your tools on the plywood or on a piece of cardboard rather than directly on the hardwood floor.
- Verify frequently that the hardwood hammer works properly and make sure its base is clean. If the base is damaged or rough, place tape underneath it to protect your floor's finish.
- To better hide the expansion joint around the room, cut the gypsum so that the wood can use that space as an expansion joint.
- Make sure the hardwood hammer is resting properly against the side of the strip before nailing. Inadequate positioning may damage the strips.
- If a nail is not driven in completely, use a nail punch and a conventional hammer.
- Save remaining strips after installation and store them in a proper place for future repairs.
Maintenance

- Use non-wax flooring cleaner to keep your floor in good condition. Use of conventional, domestic cleaners may permanently damage your floor's finish.
- Never clean your hardwood floor with a wet mop or cloth. Water and wood are natural enemies.
- Do not wax your hardwood floor.
- Vacuum your floor frequently to eliminate the presence of solid particles (such as sand) which may damage and/or scratch your floor.
- Place protective felt underneath your furniture to protect your floor. Clean the felt regularly and replace it when necessary.
- When moving heavy furniture (fridge, piano, etc.), place a thick rug underneath furniture legs before moving
net2net@masrawy.com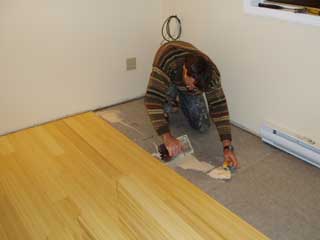 Pre-finished Solid and Engineered Bamboo flooring, Aluminium Oxide
Care & Maintenance
Care and Maintenance of

Bamboo Floors
Do
Not:
Do not use wax, oil, soap or any industrial strength cleaner on your bamboo floor. Use only light cleaning products that are urethane and aluminum oxide friendly. Cleaners which are specifically formulated for hardwood and bamboo floors are available through your local home improvement store
Do not use an excessive amount of water when cleaning your bamboo floor. Water and wood/grass (bamboo) are not naturally compatible - wet your mop/cloth sparingly. You may mop you bamboo floor with a very slightly damp mop but never "wet" mop.
Do not walk on bamboo flooring with hard-soled or high-heeled shoes.
Do:
Vacuum your bamboo floor frequently to eliminate the presence of solid particles (such as sand) which may damage and/or scratch your floor.
Place protective felt underneath your furniture to protect your floor. Clean the felt regularly and replace it when necessary.
When moving heavy furniture (fridge, piano, etc.), place a thick rug underneath furniture legs before moving.
Keep your pets nails clipped to reduce scratching on the floor.
Wipe up spills immediately with a lightly dampened cloth, then follow up with a recommended cleaning product.
Maintain the appearance of your bamboo floor by using a "putty pen" to fill minor scratches on the finish.
Avoid long periods of direct sunlight.
If using area rugs, make sure to move them periodically, to ensure the UV rays don't unevenly fade or change the color of the bamboo flooring.
Depending on the amount of traffic, varnish your bamboo floor every few years to help maintain its lustrous finish.
Keep indoor temperature and humidity reasonably consistent.

25 years warranty
The Bamboo Advantage
Bamboo is often misunderstood as a type of hardwood. It is a special type of grass that grows into large stalks producing a wood that is equally tough as maple. It adapts well to the environment where it grows and survive in areas with fair to poor soil conditions, still growing surprisingly fast.
A very controlled and supervised harvesting process has almost no effect on the individual stalk of bamboo. It keeps growing to extreme heights even after harvesting. This nature of bamboo is considered a renewable source of flooring material, and is recommended for people with an eco-friendly approach. Moreover, the appearance of bamboo flooring makes it an ideal choice for your office and home interiors.
Bamboo flooring is offered a wide diversity in cuts, colors and finish, making every flooring project unique in many ways. Among the subset of bamboo flooring are a number of sub-headings for the consideration of buyers and consumers. Two major color varieties in bamboo flooring are standard offerings, each one individually decorative
·
the creamy blonde tone of natural bamboo
·
the smoky, rich carbonized bamboo.
·
The extremely durable strand-woven bamboo floors is a choice in bamboo flooring which adds the practice of the best use of materials to the long line of environmental benefits for which bamboo flooring is best known.
·
The highly advanced engineered bamboo flooring, adds innovation to the mix which is offered by bamboo flooring, highly suitable to an even wider range of applications.
With all of these options lies some common strengths which make bamboo flooring a tasteful and practical choice:
·
Unique patterns put bamboo in a class by itself
·
Natural bamboo flooring is comparable to maple for hardness
·
Bamboo is suitable to be installed in a variety of settings without the need to nail down to a sub floor.
·
Bamboo is a fast-growing, robust species which is highly renewable
net2net@masrawy.com